23rd Annual Klingspor's Woodworking Extravaganza
Friday October 20th, 9am – 6pm & Saturday October 21st, 9am – 4pm
1960 13th Ave Dr. SE, Hickory, NC 28602
Welcome to the Extravaganza!
Every October, Klingspor's Woodworking Shop sponsors and hosts the ONLY woodworking show of its kind in North Carolina on October 20th & 21st. The Woodworking Extravaganza, at the Hickory Metro Convention Center in Hickory, NC. 
Folks from the surrounding fifteen states travel to attend. In 2010, for example, over 4,500 people attended this event. This year there will be 50+ Vendors Many hosting their own booths and offering expert advice.  There will also be over 20 free demos, and crafts and games for your little ones. there will be plenty to see and learn. Soap carving will be returning again this year.  Join us Friday, October 20th, and Saturday, October 21st, 2023 to learn how to make soap carvings.  Alvin Woody will be demonstrating and assisting carvers to make their own renditions from soap.
Meet some of our local woodworking clubs and check out their craftsmanship on display.  Be sure to enter for a chance to win the $2300 welcome back live door prize. Paul Jackman will be announcing the winners of the Carve It Up Sweepstakes with over $ 5,000 worth of tools in prizes.
Check out the baskets of free apples set up around the event.
We Have Lost a Dear Friend
This is the worst time to hear of anyone's passing, during the togetherness season of Thanksgiving, but we have lost our friend, Mr Morris Schlesinger.
Morris would always be seen at our Woodworking Extravaganzas, in our booths at AAW Events, and at our retail store's special events.
He was passionate about demonstrating his love of woodturning and the shortcuts he found along the way.
There wasn't a more patient person with a woodturner and their questions. He always showed grace and humility.
Please keep Morris' family in your thoughts and prayers this weekend as we gather around our own families.
Dirk Gale – Lathe
Gene Dixon – Lathe
Joe Carr-Lathe
Neal Bowman – Lathe
Phil Soper – Lathe
Steve Smith – Lathe
Tonika Gillis – Lathe
Artisan Pirate – Scroll Saw
Berta Moreton – Scroll Saw
Bob Coant – Scroll Saw
Neal Bowman – Scroll Saw
Steve Smith – Scroll Saw
Richard Moore – French Polish
Richard Moore – Sharpening – Edge
Richard Moore -Sharpening – Saw
Gene Dixon – Spokeshave
Phil Soper – Plane
Michael Mathews – Pyrography
Mike Quan – Pyrography
Jerry Measimer – Hat Turning
Michele Parsons – Pyrography
Morris Schlesinger – Lathe
Alvin Woody – Soap Carving
John Pask – Replica Shipbuilding
The Marquetarians – Scroll Saw
Jeff Hornung – Lathe
Turned Spinning tops
Turned Light Sabers
Scrolled Snowflakes
Scroll Ornaments
Pyrography
Bookmarks
Pyrography Ornaments
Plane Shaved Flower
Soap Carving for Kids
All Ages Kid Carving
Turned Angels
Turned Snowmen
Turned Necklaces
Turned Spinning tops
Laser Coasters
Laser Bookmarks
Laser Key Fobs
NCWoodworker.net Booth Demos
FRIDAY
10:30-12:00 – Bob's Top Ten Scroll Sawing Tips
1:30-3:00 – Scroll Sawing Christmas Ornaments
3:00-4:30 – Scroll Sawing Resources
4:30-6:00 –  Compound (3D) Cuts on a Scroll Saw
SATURDAY
10:30-12:00 – Bob's Top Ten Scroll Sawing Tips
1:30-3:00 – Scroll Sawing Christmas Ornaments
3:00-4:00 – Compound (3D) Cuts on a Scroll Saw
All sessions will include live demonstrations on the scroll saw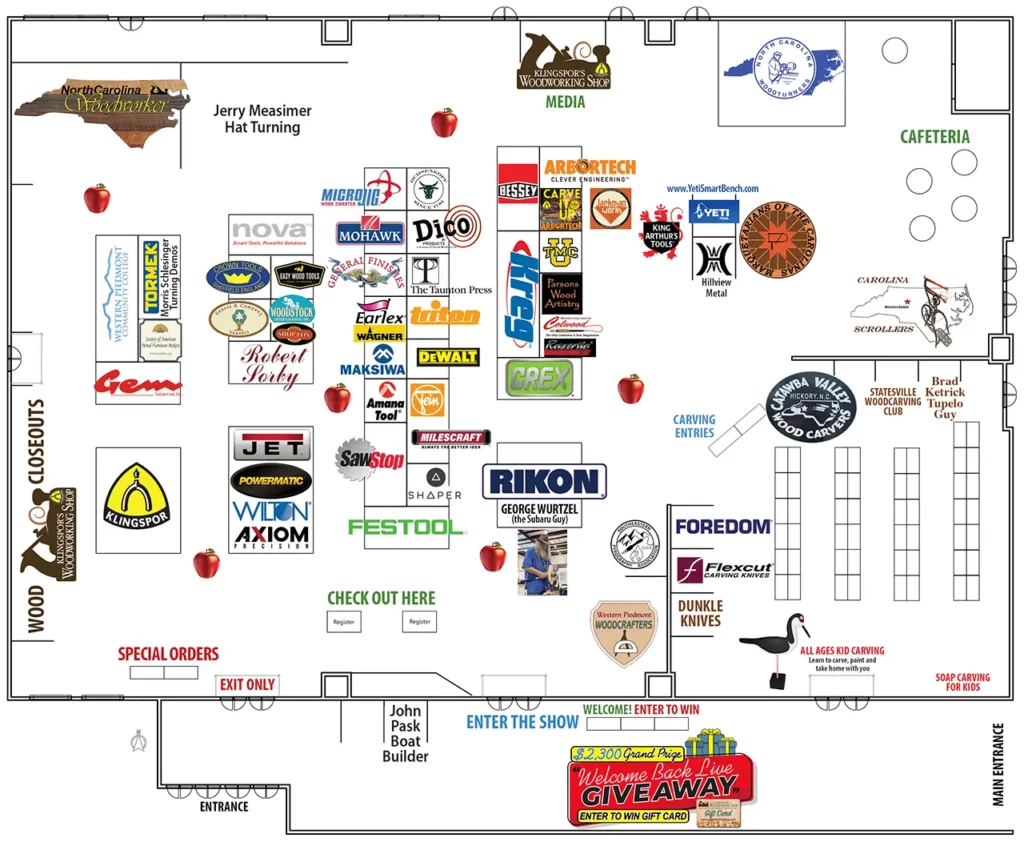 $2300 Grand Prize Gift Card Giveaway!
Register at the show for the grand prize and many other door prizes!
Our web design team has ample years of experience in the core areas of design to build a website that you need.
Looking out for customized solutions for your websites? Our team will develop and deliver a website that'll serve your purpose.
With researched digital marketing, we will ensure that new customers and clients are able to find your business.
Power up your creativity and show off your skills
Klingspor's Woodworking Shop and Arbortech have joined forces to bring you the Carve It Up Sweepstakes just for power carving! We want to see things you can make from wood using a power carving tool for 2023's Carve It Up Sweepstakes!
Show us your skills and take a chance at prizes valued at over $5000.
Dwayne Gosnell lives in Hickory NC, with his wife Melissa and two children. Carving has been an endless passion for going on for 3 decades, which seems to increase as the years pass. Dwayne travels the United States Teaching, Judging, and bringing Caricature carving to the front line of the artist community.
Dwayne has won many awards along the way as well as being included in the CCA in February 2020.  The awards won are far less important than the friends Dwayne has made along the way.
Dwayne's website can be reached at www.dgosnellwoodcarving.com
Saturday, October 21st
Show Hours 9:00 am - 4:00 pm Hickory Metro Center, 1960 13th Ave Drive SE Hickory, NC​
Set up and Registration:
Friday, October 20 9:00 AM - 6:00 PM
Saturday, October 21 7:00 AM - 8:45 AM

Judging begins at 9 a.m. Saturday

NO ENTRIES ACCEPTED AFTER 8:45 AM ON SATURDAY • NO MAILED-IN ENTRY FORMS or ENTRIES WILL BE ACCEPTED
Entry Fee is $20 per carver. Payable to CVWC at the time of registration. Check or cash only.
Youth Category 36 will not be charged an entry fee unless carvings are entered into other categories
Please complete the entry form prior to registration.
Entry form must be completed for all entries.
Up to five carvings per category except cat 35.
Entries must have been completed since 1/1/2021.
All entries must have been handcrafted by the person entering. Roughouts are permitted only in the roughout category.
Molded feet and glass eyes are permitted. Use of plastic, fabric, metallic additions, or any other non-carved item is not permitted. Non-wood materials are permitted on the base or habitat, provided they are handcrafted.
The CVWC reserves the right to refuse any entry deemed to be "not good taste, or offensive".
Entries will be returned to the exhibitor at 4:00 p.m. on the day of the show.
Entries are submitted at the discretion and sole risk of the entrant. CVWC will not be financially responsible for loss or damage regardless of cause.
All entries must be hand-delivered.
The final placement of the entry into the proper category is at the discretion of the show referees.
The decisions of the judges are final.
The artist's name shall be obscured with tape. However, you are encouraged to place name cards or business cards on your carvings after all judging is completed.
The Show Committee has the right to add, delete, or subdivide categories.
Realistic - Exactly proportioned carving in the round.
Stylized – Fully carved with careful deliberate, flowing, curved, and oval surfaces. Simplicity, beauty, and identification with minimal natural details. Realism is not the objective.
Caricature - imitation of a person or animal in which certain striking characteristics are exaggerated in order to create a comic or grotesque effect. The subject must be carved in the round.
Habitat is not a category subject. Subjects that do not qualify within any category are considered habitat. Example: a dragonfly and a fish in a scene. The dragonfly does not qualify the carving as a group since there is no insect category.
No CVWC blue ribbon carvings can compete unless the carving is entered in a higher division than previously entered.
Group carvings are any combination of carvings within a category. Must be mounted on a single base. For judging purposes, the dominant subject will determine the category in which the multi-subject group will be placed.
CVWC has the final decision over any and all competition-related questions and placement.
 Show Theme - "Spooktacular"
Caricature up to 8" - (Excluding base) From bottom of feet to top of head. Single subject.
 Caricature over 8" - (Excluding base) From bottom of feet to top of head. Single subject.
Animal Caricature - Any single subject or size.
Caricature Group - 2 or more subjects or any combination from categories 2 through 4. No roughouts permitted.
Caricature Busts - Any subject.
Roughout - Any subject(s), non-instructor-assisted carving carved from a roughout.
Bottle Stoppers - Any subject, must be affixed with a cork and displayed in a bottle.
Ornaments - Any subject, must be hanging on a stand that is made or purchased.
Santa's - Full-bodied, caricature or realistic, any style.
 Wood Spirits - Human-like faces carved on the surface of bark, limb, or knot, etc.
Human Figure - Realistic, proportioned, man, woman, or child. Single or Group.
Human Busts - Realistic, proportioned head and partial shoulder of man, woman, or child.
Mythical / Fantasy - Any myths, folktales, or imaginative fiction genre.
Songbirds - Realistic - e.g. Robin, Wren, Woodpecker, etc.
Ducks - Realistic - e.g. All Ducks, Geese, Swan, etc.
Gunning Decoy - Contemporary and "Antique Style" judged in hand.
Birds of Prey - Realistic - e.g. Hawk, Owl, Falcons, Eagles, etc.
Game Birds - Realistic - e.g. Dove, Turkey, Quail, etc.
Sea / Shorebirds - Realistic - Tern, Pelican, Gulls, Plovers, etc
Feathered Groups – 2 or more subjects or any combination of categories 15 -20.
Animals - Realistic, proportioned, e.g. Deer, Rabbits, Dogs, Buffalo, (includes reptiles), etc.
Aquatic Animals - Realistic, proportioned, e.g. Fish, Sea Mammals, etc.
Animal Group - 2 or more subjects or any combination from categories 22 through 23.
Carved Found Wood - Wood found in its natural habitat e.g. driftwood, roots, limbs, stumps, knots, etc.
Stylized - Any subject that retains identity with minimal detail.
Cottonwood Bark - Any carving made exclusively from cottonwood bark (excludes base).
Walking Sticks / Canes - Any style, any subject.
Cypress Knee - Complete knee, any subject, any size. No inserts, attached or glued are allowed.
Chip Carving - Precise, regular, triangular, or wedge-shaped wood chips to form engraved patterns.
Relief Carving - Dimensional images carved in the front of a flat surface or background
Pyrography - Uncarved art created with burning tools on wood or paper.
Miniature - Any style, any subject. Carving (including base) must fit inside a 2-inch cube.
Miscellaneous - Wood carvings not listed in any other category.
Swap - Any style, size, or subject, painted or natural.
Youth -This new category has been added to encourage young carvers to expand their skills by participating in organized competitions at a level appropriate for their age group. Age groups are 11 and under, 12 to 14, and 15 to 17. There will be no entry fee for youth contestants. (This Category Only).
IWCA Style Shorebird Championship. Rules can be found at internationalwildfowlcarvers.com. Mail-ins must be received no later than Wednesday, October 18.
IWCA Young Guns Championship Rules can be found at internationalwildfowlcarvers.com. Mail-ins must be received no later than Wednesday, October 18.
Please Note: Categories 15, 16, 18, 19, and 20 may be divided into Local and IWCA. IWCA Decorative Live Size Non-floating rules apply along with advancement points awarded for novice and intermediate. Must be an IWCA member for IWCA categories. Rules at IWFCA.COM
Every category except 1, 34, 35, and IWCA categories will be divided as:
PAINTED - Any entry where a pigmented finish is applied to the wood grain. Paint or washes on any surface designates the carving as painted, e.g., stain or paint on the bill of a duck will be judged as "painted"
NATURAL - Any entry that is uniform in natural wood grain, Non-pigmented clear coats, or sealants is allowed.
You cannot enter a division lower than the highest one you previously entered in a competition.
NOVICE - Open to carvers who have been carving for less than five years and have not won Best of Novice, Best of Intermediate, or Best of Open at any carving competition. A carver who has won Best of Novice at any carving competition must enter carving(s) in the INTERMEDIATE or OPEN division.
INTERMEDIATE - Open to carvers who have not won Best of Intermediate or Best of Open at any carving competition. A carver who has won Best of Intermediate at any carving competition must enter carving(s) in the Open division.
OPEN - Open to carvers who want to compete at the highest level at this competition.
There will be great carvings at the raffle for $1 a ticket or 6 for $5, etc.
If any contestant attending the show would like to donate a small carving to our cause, we will gladly accept it. Just bring it to the show and give it to the folks at the raffle table during registration. The drawing will be about 2:30 PM on Saturday, 22nd. You do not have to be present to win as long as your name and phone number are written on the ticket. Winners are required to make arrangements to pick up their carving.
First, Second, Third, and Honorable Mention ribbons will be awarded in each category.
Best of Novice:
1st $75, 2nd $50, 3rd $25

Best of Intermediate:
1st $125, 2nd $100, 3rd $75

Best of Open:
1st $350, 2nd $250, 3rd $150
Special Prize Sponsored by
Best of Show $500
Best of Show Theme (category 1)
Best of Open $75
Best of Intermediate $50
Best of Novice $25

Best of IWCA Style Shorebird Championship
1st $300, 2nd $200, 3rd $100
Each year, popular woodworking clubs offer FREE demos and expert advice along with some booths where you can learn more about the club.
North Carolina wood carving clubs are present each year offering FREE demos and expert advice. Some clubs may have a booth with displays and more club information. If you have a hobby in wood turning, don't miss the expansive wood turning offering with clubs and FREE demos. We know you enjoyed Michele Parsons, Wood Aristry, wood burning demos! Each Woodworking Extravaganza has woodworking related demos that go beyond only wood carving or turning.
Learn more about the woodworking clubs that have participated in past Extravangazas by visiting our Woodworking Clubs page.